Cheap Flights to Muscat Airport
Flights to Muscat
Discover the historical charm of Muscat, Oman. It is the capital city of Oman and located at the edge of Arabian Peninsula. Muscat is most popular for its natural beauty, picturesque landscapes, ancient sites, numerous mosques, seafood and breathtaking landmarks. Get wings to fly into Arabian wonderland with Rehlat. Rehlat is the fastest growing online travel website offering best travel services across the world. Rehlat offers a range of offers, last minute deals, special fares, and discounts. Book flights from any part of the world to Muscat using Rehlat's offers. Experience the unmatched services at incomparable low fares only with Rehlat.

Things to Do & Popular Places in Muscat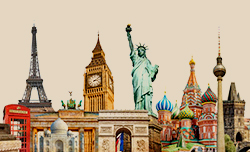 Don't Miss Sultan Qaboos Grand Mosque
Explore the unique magic of Arabian beauty with magnificent attractions and sightseeing places across the city. Tourist attractions in Muscat include Royal Opera House, Sultan's Armed Forces Museum, Qurum Beach, Mazara Dam, Amouage Perfumery, Mohammed Al Ameen Mosque, Mohammed Al Ameen Mosque, Wadi Al Arbeieen, Qurum Natural Park, Qantab Beach and much more. Sultan Qaboos Grand Mosque is considered as the major tourist attraction of the country, which features 20,000 worshipers, including 750 women in a private prayer hall. You can find a large number of local transport from centre of the city to reach the Grand Mosque.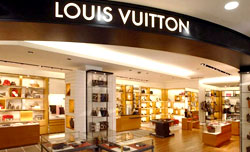 Best Shopping Malls
Get a wide variety of popular fashion brands in numerous shopping malls including City Centre, Oman Avenues Mall, Muscat Grand Mall, Qurum City Center, Panorama Mall, Muscat's Souk, and much more. Also, you can find street markets and old bazaars in Muscat. The city is most famous for its pearls, dates, clothing, traditional Omani pottery, artifacts, perfumes, gifts, and much more.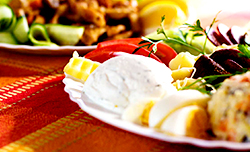 Food and Dining in Muscat
Muscat offers a perfect blend of Arabian and Indian influences. You can taste numerous traditional and delicious dishes such as Harees, Kahwa, Kebab, Mushuai, Muchboos, Muqalab, Shuwa, Sakhana and halva. Plenty number of best hotels and restaurants are dotted around the city. You can find a number of licensed pubs, restaurants and bars than anywhere else in Oman. The main options to enjoy the nightlife in Muscat include the swanky bars, English-style pubs and the raucous live-music bars and much more.
Transportation in Muscat
The local bus transportation is best option to travel within the city. You can find a number of inter-city buses to travel between larger cities like Sohar, Nizwa, or Salalah. The local public transport operates many private taxis for visitors to travel in and around the city. Oman National Transport Company serves bus links to the distant destination such as Dubai at reasonable prices.
Muscat Airport Information
Muscat International Airport is well known as Seeb International Airport, located just 32 km from Muscat City, the capital of Oman. The airport is the major international airport serving Muscat city. Muscat International Airport serves millions of passengers throughout the year. The airport is a hub for Oman Air and SalamAir.
Local Transportation To & From Muscat Airport
You can find public buses operated by the Oman National Transport Company to reach the airport. Also, you can opt for rental cars or taxi service. Many hotels offer courtesy buses to and from the airport for their guests.
Popular Airline Routes
Muscat Airport AddressMuscat International Airport
Muscat,
Oman
Ph: +968 24 519223
Scroll