Cheap Flights to Baku Airport
Flights to Baku
Baku is the capital and largest city of Azerbaijan. The city is situated on the banks of the Caspian Sea, on the southern edge of the Azerbaijan Peninsula. The city is a hub for scientific, industries, and cultural resources. It is headquartered for many corporate companies and educational institutions. It is known as 'City of Winds' as it experiences high and low winds often. Find out exclusive deals on Baku flights and experience the world-class services and warm hospitality on all leading international airlines. Rehlat offers a wide range of cheap flights to Baku including one-way or round trip as well as provides daily schedules & information on non-stop flights to Baku.
Things to Do & Popular Places in Baku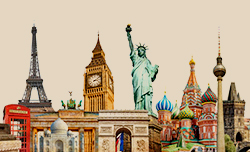 Don't Miss Maiden Tower
During trip to Baku, tourists should not miss visiting Maiden Tower listed under UNESCO World Heritage Site list. Maiden Tower houses a museum which depicts the history of Baku city. Baku boasts plentitude of cultural sites, museums and art galleries. Some of the must-visit attractions include Palace of the Shirvanshahs, Twin Gates of Old City, Ramana Tower, Mayoralty of Baku, Ismailiyya Palace, Opera and Ballet Theater, Azerbaijan State Philharmonic Hall, and Azerbaijan State Academic. Also, the city has a number of musical and art festivals.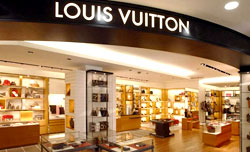 Best Shopping Malls
The city has a number of luxury shopping malls. Most of them are located in the city centre. 28 Mall, Port Baku Mall, Park Bulvar, Metropark are the featured shopping malls in Baku. City also has a number of street markets, many souvenir shops selling one-off items. Most of the souvenir shops are located near Fountain Square and Nizami Street. Baku is popular for a variety of rugs, apples, antiques, and much more local delights. Old City area is the best place to experience the traditional shopping. There are numerous chain stores, local boutiques, and small shops that are sprinkled throughout the city.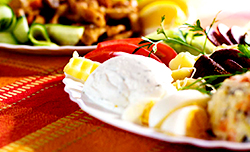 Food and Dining in Baku
The best varieties of Azerbaijan describe the fascinating food culture of Baku. Vegetables, meat, fruits, and dairy products are the main ingredients of the food in Baku. There are plenty of eateries available in the city, which offers traditional cuisines along with worldwide varieties. Though most the meals are fatty, vegetarians also can taste a number of dishes in the city. Baku's nightlife is enjoyable and most of the clubs, lounges, and bars open until dawn. Local music will be played in most of the places along with delicious Azerbaijan cuisine.
Transportation in Baku
Baku has a number of transportation options to travel in and around the city such as bus, tram, metro rails, mini buses, trolley-bus, and underground services. Bus, tram, and trolley buses are inexpensive, and the network is comprehensive. Baku is the only city to operate metro service. Trains are available for every two or three minutes and the charges are also cheap irrespective of the destination. You can also find taxis and shared taxis to explore the city.
Baku Airport Information
Heydar Aliyev International Airport (IATA: GYD, ICAO: UBBB) is the primary serving and busiest airport in Azerbaijan, which is located 14 kilometers northeast of Baku. The airport serves many of the international and domestic destinations and has nonstop flights to around 60 cities. The airport has two terminals one for international and another for domestic flights. The terminals are equipped with necessary facilities such as business class lounges, VIP/CIP lounges, bars, restaurants, cafes, coffee shops, currency exchange, ATMs, banks, duty-free shopping, free Wi-Fi, parking lot, facilities for disabled, waiting hall, etc.
Local Transportation To & From Baku Airport
Rental cars and taxis are the major means of transportation to and from the Baku airport. Check for licensed taxi drivers otherwise they will overcharge. Hotel courtesy and shuttle services are also available on prior intimation. Express buses ply between the city and airport. The bus stop is located in front of the exits of Terminals.
Popular Airline Routes
Baku Airport AddressHeydar Aliyev International Airport
IATA Code: GYD,
AZ1109, Settlement,
Baku,
Azerbaijan,
Ph: +994 12 497 27 27
Scroll